John Chandler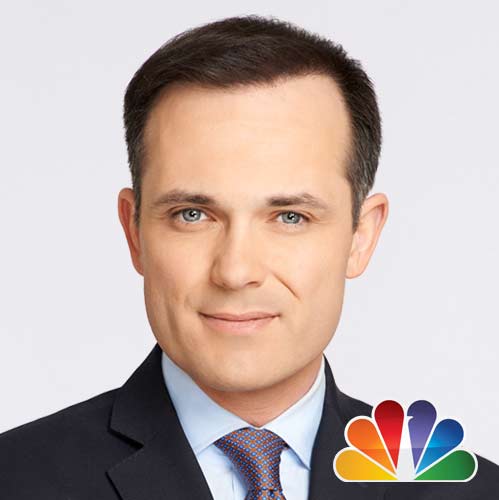 WNBC Sports Anchor/Reporter
Class of 2001
Since BUTV10 I've…
Survived! It's been a rocky but rewarding ride to WNBC in New York. I started at WEWS in Cleveland, my hometown, where I followed LeBron James from high school phenom to NBA MVP. At NESN in Boston I covered more championship teams in four years than most see in a lifetime. At NBC Connecticut, I was proud to be a part of a Peabody Award winning newsroom. I've interviewed some of sports biggest names, from Kobe Bryant and Tiger Woods to NBA Commissioner David Stern. But some of my favorite stories are the players and teams no one has heard about.
My advice for current BUTV10 students
Anchor, reporter, producer, director — whatever path you take, you are first and foremost a storyteller. News is about people and their stories. It's about moments that are memorable, events that are impactful. And if you choose TV, don't confuse being ON television with working IN television — journalism is not about you, it's about the stories you tell.
Jackie Bruno
Anchor & Reporter, New England Cable News (NECN)
Class of 2006
Since BUTV10 I've…
been the weekend anchor and a weekday reporter for NECN in Boston. Before that I spent three years as the weekend anchor and a reporter for WWLP in Springfield, MA. Before I started my news career, I was Miss Massachusetts USA. I took a year to represent Massachusetts at the nationally televised Miss USA pageant where I placed in the top ten.
My advice for current BUTV10 students
intern! Learn as much as you can in internships and find mentors who can help you make your tape and find jobs. And when you're in your career, help interns get their first job. Pay it forward!
Gabe Stein
Deputy Director of Audience Development, Upworthy
Class of 2011
Since BUTV10 I've…
been exploring the wide world of digital media from every angle I possibly can. I worked for Ogilvy, a large ad agency, as a front-end developer, built support tools for Google's ad-serving platform, tried my hand at journalism as a newsroom developer for Fast Company, and now work on the Audience Development team at social media startup Upworthy.
My advice for current BUTV10 students
Be thoughtful. Make media for a reason, not just because it's what you're studying. Take the time to find something concrete that you're passionate about, and let it show in your work. I know that sounds basic, but you'd be surprised how many new grads who apply for jobs with otherwise stellar education, experience and backgrounds are incapable of telling the story of how they view and access the world. There's nothing worse than interviewing someone who has no passions, but there's nothing better than talking with someone who has real interests, and better still, can point to a time when they deliberately and thoughtfully made them a part of their work.
Samantha Ulan
Associate Producer , MSNBC's All In with Chris Hayes
Class of 2011
Since BUTV10 I've…
been working in New York City. I started the NBC Page Program right after graduation working at CNBC, Weekend Today, and MSNBC. I moved on to working overnights for NBC News with the show Early Today as a Production Assistant before coming to launch the new MSNBC show, All In as an Associate Producer.
My advice for current BUTV10 students
Get involved with what you love on campus but make sure you're working and finding internships along the way. Already having experience when you get out of college gives you a great step up when applying for that first job.
Cody Brotter
Comedy Correspondent, mtvU Network
Columnist, The Huffington Post & Playboy.com
Class of 2013
Since BUTV10 I've…
Within months after graduating from BU and BUTV10, I got the best management and representation team in the universe! I've gone on to be mtvU's Comedy Correspondent, where I write and star in my own sketches and field pieces, including an interview with Steve Carell. I also write comedy for Playboy and The Huffington Post and if I'm not auditioning then I'm shooting videos for the web, just like I did in college.
My advice for current BUTV10 students
Make stuff you would actually watch. People will either like it or dislike it, but at least it's authentic. I think telling the stories only you can tell and using your original voice is the best recipe for success in the industry. I genuinely feel as though the cream rises to the top, so give it your best shot. Also, I would advise anyone in search of entertainment opportunities to live in LA. If you want to make it in Hollywood, you should probably start by at least living nearby.
Assistant to VP Fox News Channel, Politics Reporter & Producer @ Fox News Dotcom
2014
Class of 2011
Since BUTV10 I've…
been Assistant to the Vice President of News and Senior Executive Producer of News and Politics, Jay Wallace, as well as a Politics Reporter for Fox News Dotcom, and a Producer of Fox News' Strategy Room, a politics show that airs daily on Fox News Dotcom. I assist with guest booking for Greta Van Susteren's radio show, "Greta Talk", and am a guest-greeter for the Shepard Smith Reporting show.
My advice for current BUTV10 students
Be involved in BUTV10 as much as you can. The hands-on experience we get in COM with BUTV10 is unique, and will help you to stand out when applying for your first jobs. Develop relationships with your peers to make connections that last past your time on Comm. Ave! It's so exciting to be able to watch members of the BUTV10 family move forward in their careers. The news business is small, so it's likely your paths will cross again.
Are you a BUTV10 alum?
We'd love to hear from you! Email us at alumni@butv10.com